´ANUSIM - What is Hidden is Never Lost` and other performances
Cascais
Salão Preto e Prata - Casino Estoril
24 June 2021, 8:30pm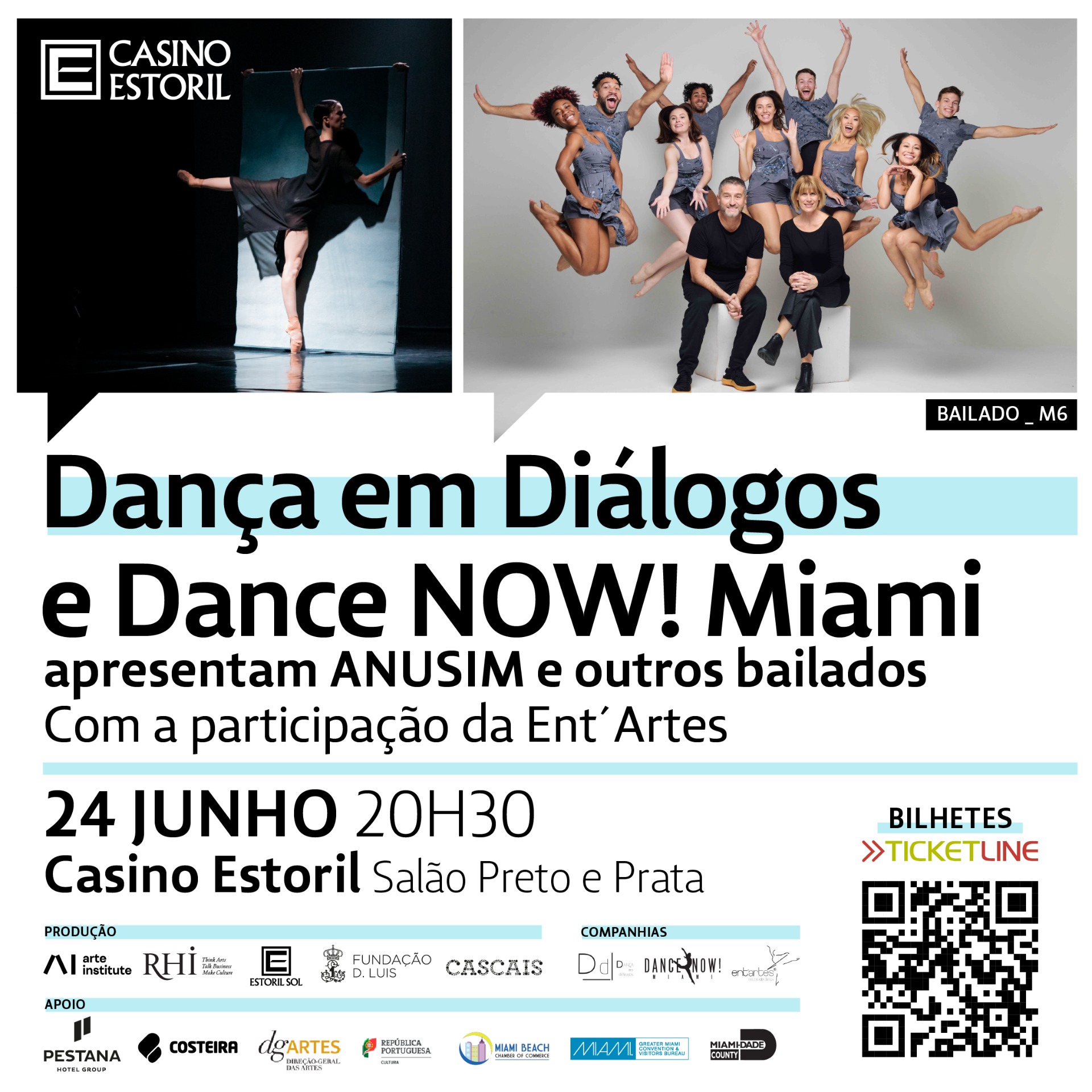 Dança em Diálogos
and
Dance NOW! Miami
present ´Anusim - What is Hidden is Never Lost` and the other performances. This show is a partnership with Casino Estoril, Fundação D. Luís and Câmara Municipal de Cascais
First performed May 1947 at Jordan Hall, Boston by the José Limón Dance Company


Choreography: José Limón
Music: Norman Lloyd
Staging & Direction: Daniel Lewis
Costumes: After original by Haydee & Maria Morales


La Malinche: Allyn Ginns Ayers
El Indio: Anthony Velazquez
El Conquistador: Matthew Huefner
DiValVi
Choreography: Fernando Duarte
Music: Max Richter
Costume design: Solange Melo
Teresa Silva Dias - Joshua Feist
Unburden (2011)
Choreography: Hannah Baumgarten
Music: Craig Armstrong
Costume: Marilyn Skow
Dancer: Renee Roberts
Choreography: Diego Salterini
Music: Dakota Suite & Emanuele Errante
Costume: Haydee Morales, Maria Morales
Dancers: Isabelle Luu Li Haas & David Harris
Beethoven Variations
Special appearance of Motus Dance Project from Ent'Artes - Escola de Dança

Choreography: Fernando Duarte
Music: Ludwig van Beethoven
Costume and light design: Solange Melo

Afonso Ferreira - Ana Costeira - Bárbara Vieira - Leonor Oliveira - Maria Borges - Mariana Pereira - Núbia Veiga
Anusim - What is Hidden is Never Lost (World Premiere)
This piece is dedicated to Sheila Baumgarten on her 80th birthday from her sisters, daughters, husband and the generosity of friends.

Choreography: Hannah Baumgarten & Diego Salterini with Solange Melo and Fernando Duarte
Original Score Composed recorded and edited by: Federico Bonacossa
Production and Lighting Design: Bruce F. Brown
Costume Design: Haydee Morales
Costume Artists: Maria Morales
Costume Construction: Haydee Morales, Maria Morales, Alberto
Arroyo, Jesus Lorenzo Countertenor: Edgar San Feliz Botta
Sephardic singer: Susana Behar
Harpist: Marti Moreland
Percussionist: Reza Filssofi
Guitarist: Federico Bonacossa


Special thanks to Malka Israel Biton for her assistance with the interpretation of the Hebrew texts


Dancers: Julia Faris, Allyn Ginns Ayers, Benicka J. Grant, Isabelle Haas, Margarida Trigueiros, Teresa Silva Dias, Matthew Huefner, David Harris, Renee Roberts, Joshua Emmanuel Rosado, Anthony Velazquez, Joshua Feist, Pedro António Carvalho.


Anusim is inspired by a rarely told story in Jewish history – the 1497 decree of the Portuguese King Manuel I forcing Jews to practice their religion in secret instead of facing the most fierce persecution, conversion, expulsion or worse. The Jews were given a 20-year reprieve, when they could maintain their Judaism in secret but publicly had to practice Catholicism. They were called "New Christians." Eventually many assimilated, but some Jewish practices remained as "Family Traditions." These themes of loss, cultural annihilation and forced conversion resonate with many different populations in the past and even today.
Anusim builds on a pivotal dance performed by Dance NOW! entitled Odisea, choreographed by Carolyn Dorfman in 2005 and restaged on Dance NOW! in 2015, Odisea chronicles the physical, emotional and spiritual journey of twenty-three Jews leaving similar persecution in Recife, Brazil in 1654 and their journey and ultimate landing on American soil in New Amsterdam (New York City).
Anusim, what is hidden is never lost has been created as part of an International Cultural Partnership with Dança Em Diálogós, our partner company in Portugal. Dance NOW! will be sharing the stage at the Casino Estoril on June 24th to perform the complete work with both companies. This project is funded by Miami Dade County Department of Cultural Affairs with the support of the Greater Miami Convention and Visitors Bureau, the Miami Beach Sister Cities International and the Miami Beach Chamber of Commerce.
Production ||
| Casino Estoril | Fundação D. Luís | Câmara Municipal de Cascais
Partners RHI Initiative ||
| Caixa Geral de Depósitos | Fundação Millennium BCP | Fundação EDP | Grupo Costeira | Hyundai | Pestana Hotel Group | Organização de Estados Ibero-Americanos | Fundação Luso-Americana para o Desenvolvimento | Ent'Artes | Antena 3 | Polarising | ParesAdvogados | _ARTERIA_LAB | Interreg | Magallanes_ICC | Universidade de Évora | Câmara Municipal de Torres Vedras | Câmara Municipal de Loulé | Câmara Municipal de Alcobaça | Câmara Municipal de Leiria | Câmara Municipal da Vidigueira | Câmara Municipal do Funchal | Câmara Municipal de Ponte de Lima
Support ||
| República Portuguesa – Cultura / Direção-Geral das Artes
More benefits with the
RHI
Membershi
p
. B
ecome a member!