Nuno Zúniga
Actor
Portugal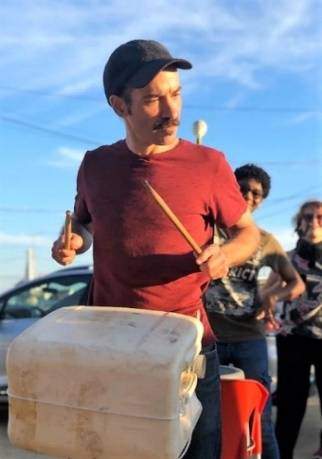 From 2001 to 2002, he directed actors and staged assistance in the course of Directing and Directing Actors at Teatro de Bolso - Voz do Operário. He did a professional internship at Espaço Avoé and also attended the Performing Arts Degree at ESTAL - Lisbon School of Technologies and Arts.

He worked, as a scenography assistant, for RTP, SIC and TVI.

Between 2004 and 2012, as an actor and creator, the highlights "Tu Ayeko", Teatro KAUS and "Um conto em um canto", and he also worked as a resident artist, theatre teacher and multipurpose technician.

He was also a theatre trainer, artist in several projects roaming the country, actor, performer and multipurpose technician to support lighting and scenography at Espaço SOU - Movimento e Arte.

He did several workshops and animations, highlighting the collaboration with Chapitô, the dramaturgy, scenography, staging and interpretation of the play "Um conto em um canto".

He worked on the interpretation and support for the creation of the plays "Pé de vento na lixeira" and "A ilha de ecopólis", staged by Sofia Ribeiro. He participated in the Festival "Ao gosto", as an interpreter and creator, and in educational and ecological awareness projects aimed at children; in animations and dance and performance theatre performances for different companies and institutions. It gathers technical knowledge and training from clown to the physical theatre, naturalism, expressionism, American tap dancing, passing through contemporary dance, dance theatre, among others.

Since 2018, in Évora, it already has the participation and partnership with the Eugénio de Almeida Foundation (Évora), in the show "Está aí alguém?", as part of the project of staged visits to Páteo de S. Miguel. He participated in the Festival à Rua 2019, in the show "Ninhos", by Chissangue Afonso, where he contributed to the scenic assistance.

More recently, he participated as an actor in the play "O Cerejal", a co-production by CENDREV and the University of Évora, staged by Ana Tamen.