Chissangue Afonso
Actress
Mozambique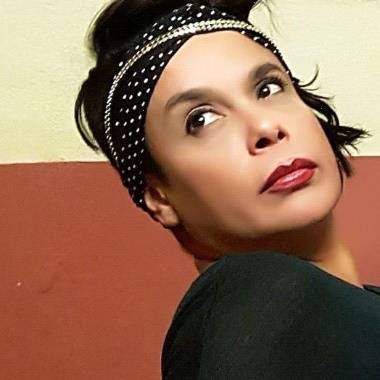 She joined Escola Superior de Teatro e Cinema, in 1998, where she attended the Degree in Plastic Performance of the Spectacle, finishing the Bachelor's Degree in that institution, in 2003. She graduated in areas such as History of Literature and Dramaturgy, Art Theatrical, among others.

She worked in production, at Antro Casting Cinema (1997 to 1999), in films such as "Capitães de Abril" by Maria de Medeiros, and "Palavra e Utopia" by Manuel de Oliveira, among others. In 2000, she worked in production in the group "Bica Teatro", with the director Paulo Patraquim.

Between 1998 and 2000, she animated the film "Fragmentos de Sal", by Cristina Teixeira, financed by ICAM and, in 2012, awarded Best Animated Film, by Caminhos Film Festival.

Between 2003 and 2008, she is a costume designer for the company "Primeiros Sintomas" where she worked with the director Bruno Bravo and his actors, in the plays "Frankenstein" (2002), "Conto de Natal" (2004), "É bom boiar na Piscina" (2005), "Nunca Terra" (2006), The Man with the Right Foot (2003), "End Game" (2003 - awarded the Golden Globe for Best Piece of the Year), all of these written or rewritten by Miguel Castro Caldas. She signed the costumes of "The Scum Show", by director Alexandre Lyra Leite, for the company "Inestética". "As 4 Gémeas", staged by Joana Brandão, for Teatro Taborda, among other shows. In 2017, she worked in Miss Suzie's studio, making costumes for the Cabaret show "Beco Gourmet".

She frequently collaborates on projects by the director Ana Luena: "Sonho de Strindberg" (costumes and make-up), a scenic exercise presented at the "A Bruxa" Theatre (2018) and in an academic context at the University of Évora; "Quarto Escuro" (makeup), based on the work of Paula Rêgo, at Teatro Garcia de Resende (2018); "Por Portas e Travessas", the latter inserted in the Festival Artes à Rua 2018, in Évora. Collaborates with Centro de Arte e Cultura (Art and Culture Centre) of Eugénio de Almeida Foundation, in the production of the Lá Fora 2018 Festival, Guided Tours developed by the Educational Service of CAC and currently develops the creation of the Staged Visits of Páteo de São Miguel, for Eugénio de Almeida Foundation.