Eleanor Dubinsky
Musician
United States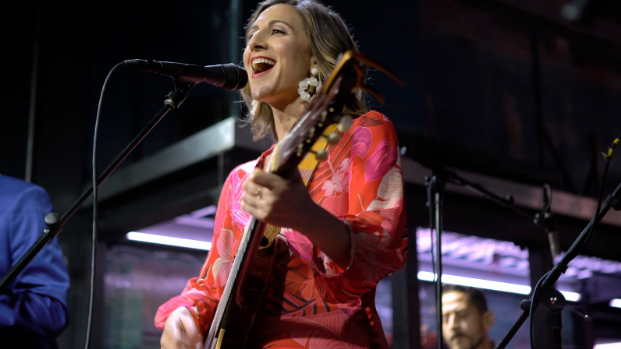 One of NPR Alt.Latino's four 2018 picks for New Spring Music, Eleanor Dubinsky is "a multilingual musician who can capture the emotions and soul of a community in a song." (NPR Weekend Edition). A vocalist, guitarist and cellist, Eleanor Dubinsky's music lives at the tender edge where jazz, world and pop sensibilities meet emotionally forthright songwriting.

Hailing from St. Louis, MO and based in New York City, her sound reflects and celebrates both her mid-western roots and the formative time she has spent in South America, Western and Central Europe, Portugal and Cape Verde. Singing in English, French, Spanish and Portuguese, Eleanor and her multi-faceted band bring linguistic and cultural fluency to dynamic compositions that explore the fragile links between human emotions and responsibility. In the words of journalist Tom Pryor, expect "a joyous, uplifting and deeply generous performance...this is music as medicine for your soul."

Eleanor has made many festival appearances including Lincoln Center's Boro Linc: La Casita, Philadelphia International Festival For The Arts at the Kimmel Center, 4 + 4 Days In Motion Festival in Prague and the Puerto Morelos Music Festival (Mexico), and has performed at nationally recognized venues including Joe's Pub, World Cafe Philadelphia, Philadelphia Museum of Art and the Guggenheim Museum. She has also performed in Portugal, Costa Rica, France, Guatemala, Cape Verde, Greece, the Czech Republic, Uruguay and Senegal, collaborating with notable artists including Les Freres Guisse (Senegal), Dino D'Santiago (Portugal/Cape Verde) and El David Aguilar (MX). Eleanor's music has been featured on MTV, Lifetime and Animal Planet, advertisements for American Express and on National Public Radio (NPR).

Eleanor has released three CDs to date: Touch The Sky (2011), Listen To The Music (2012) and Soft Spot of My Heart (2018). Soft Spot of My Heart, her most recent album, was recorded in Lisbon and New York and features some of the strongest and most creative musicians in Portugal: Rolando Semedo (bass, co-production), Miroca Paris (percussion), and Ivo Costa (drums) as well as New York based Brazilian guitarist Wesley Amorim and American pianist Frank Ponzio (co-producer).