André Murraças
Theatre Director
Portugal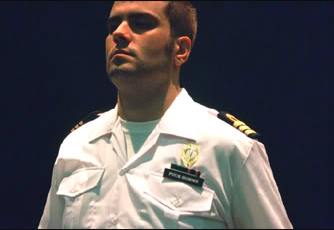 André Murraças was born in 1976, has a degree from High School of Theatre and Film Lisbon and a Master of Arts in Scenography with distinction at Hogeschool voor de Kunsten, in Utrecht, Netherlands.

Attended workshops with Simon Stephens, Jorge Silva Melo, David Harrower, Roxana Silbert, William Forsythe, Thomas Lehmen, Jan Ritsema and Rebecca Schneider.

Writer, performer and theatre director of The Servant, Saints and Sinners, Teatro Noir, Sex Zombie - the life of Veronica Lake, A Walk, Hollywood, More of a Man, One Night Only, An Ideal Husband, Louis Lingg, Pour Homme, Swingers, Love Pieces and Words are my Business.

As worked as copywriter and tv screenwriter.

Received three times the prize "The Theatre of the Decade" by CPAI and was present at the Biennale of Young Artists from Europe and the Mediterranean.

Directed and wrote the webseries Barba Rija (Rough Beard).

Created Queerquivo - the first Portuguese LGBT Archive.

In the cinema was directed by João Pedro Rodrigues.

The magazine MINI International called him one of the most promising authors of his generation. Has several short stories published and writes for magazines and newspapers.