João Santa Rita
Architect
Portugal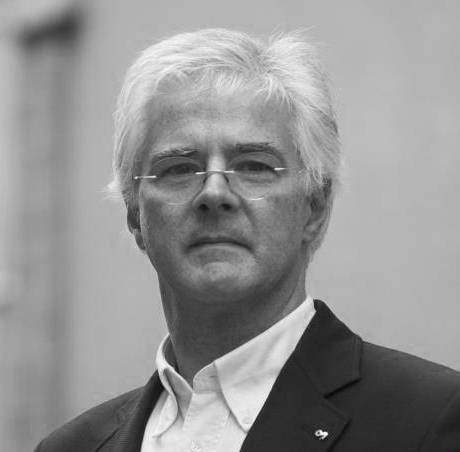 Graduated in Architecture, Escola Superior de Belas-Artes – Lisbon, 1983.
Invited as Member of the Akademie Fur Baukultur, Germany.
Elected President of the Portuguese Chamber of Architects, 2014/2016.
From 1976 to 1986 collaborated in the office of José Santa-Rita - Lisbon.
From 1986 to 1988 worked at the office of Manuel Vicente - Macau.
Founding Member of the Atelier Santa-Rita Arquitectos, with José Santa-Rita, 1990.
Partnership with Grupaplatforma - Maciej Stepansky, Powel Bober – Poland, 2007/...
Assistant professor, Escola Superior de Belas-Artes, ESBAL, Lisbon, 1984/85; Lusíada University, Lisbon, 1992; Instituto de Artes e Design, IADE, Lisbon, 1996/1997; assistant/Invited professor, Universidade Lusófona, Lisbon, 1996/2003; associate professor, Universidade Autónoma de Lisboa, UAL, Lisbon, 1998/...; Invited professor, Universidade Moderna, Lisbon, 2003/2006; Escola Superior de Teatro e Cinema, Amadora, 2002/2005; Escola Superior de Artes Decorativas, ESAD, Masters Degree Program, Lisbon, 2009/2011.
Visiting professor at the University of Minnesota, College of Architecture and Lanscape Architecture, SCALA, Minneapolis, USA, 2000.
Invited for the final reviews; Southern California Institute of Architecture,SCI-ARCH, Los Angeles, USA, 1997; Columbia University, New York, USA./1998; University of Granada, Spain, 2003, 2004; Savannah School of Art and Design, SCAD, Savannah, USA, 2010; Rhode Island School of Design, Providence, USA, 2011; University of Architecture of Lisbon, FAUTL, Superior Technical Institute, IST; Universidade Autónoma de Lisboa, UAL.
Awarded in several National and International Competitions;
Honourable Mention on the International Competition for the Revitalization of the Ulugh
Beg Center, Samarkand, Aga Khan Foudation, Uzbequistan and USSR Association of Architects, former USSR/1990; First Prize in the International Competition for the Urban Plan for Almada Nascente in Partnership with WS Atkins and Richard Rogers Partnership. Nominated for the Mies Van der Rohe Prize 2012, Barcelona, Spain.
Participated in seminars, conferences and gave lectures in France, Germany, Hong Kong, I taly, Libya, Macau, Portugal, Poland, Russia, Spain, and the United States.
Invited for the annual meeting of the Akademie for Baukultur, in Munster Osnabruck, Germany/2003, and in Granada, Spain/2008, and organized the annual meeting in Lisbon, Portugal/2004.
His work was has been exhibited in Belgium, Brazil, Bulgaria, Canada, Chile, Denmark, Finland, France, Germany, Holland, Hong Kong, Italy, Portugal, Poland, Spain, Russia, United Kingdom, and the United States.
His work was exhibited in the Triennale di Milano, Milan, Italy/1996, and selected in the International Competition of Ideas, Citta Terzo Millenio, CD/Catalogue of the Biennale Di Venezia, Italy/2000.
In 2010 participated in an Exhibition of Architectural Drawings and Models, at La Galerie D´Architecture, Paris, France.
Co-organizer of Architectural Drawings Exhibition, at the Portuguese Authors Society, Lisbon, Portugal/2001.
Produced and organized the exhibitions of the Santa-Rita Arquitectos Office; "Objects + Architectures", Polytechnic of Milan, Italy/1999, Armazém 7, Lisbon, Portugal/1999, ARCA-ETAC School of Architecture and Cinema, Coimbra, Portugal/2000; "Paysages Strategiques", La Galerie D` Architecture, Paris, France/2001, Centro Cultural de Belém, Lisbon, Portugal/2002; Desenhos de Arquitectura, Camões Institute, Paris, France/2011; "The Poetics of Fragmentation", Polytechnic of Milan, Italy/2006; "Cities as Labyrinths", Galeria Armazém, Lisbon, Portugal/2008; POST pombalino IT, Museum of Science an Natural History, Lisbon, Portugal/2012, Azorean Institute of Culture, Angra do Heroismo, Azores/2012, Museu de Architecture Museum Wroclaw, Poland/2013, Gallery Albergue Scm, Macau, China/2015.
He was Mecenas and Co-Author of the exhibition "Piranesi - Caprichos e Arquitecturas",
D. Luís Gallery, National Palace of Ajuda, IPPAR, Lisbon, Portugal/1994.
His works are published in Argentina, Chile, England, France, Germany, Italy, Japan, Portugal, Spain and Switzerland.
He was invited by the Stichting Kunstprojecten ArtProjects (Holland) to develop a project for the International Exhibition the Gate Of the Present, opening at the Deutshes Architecture Museum in Frankfurt, Germany/1991.