NYPSFF`22 - XII Edition
Faro
ArQuente
24 June 2022, 9:30pm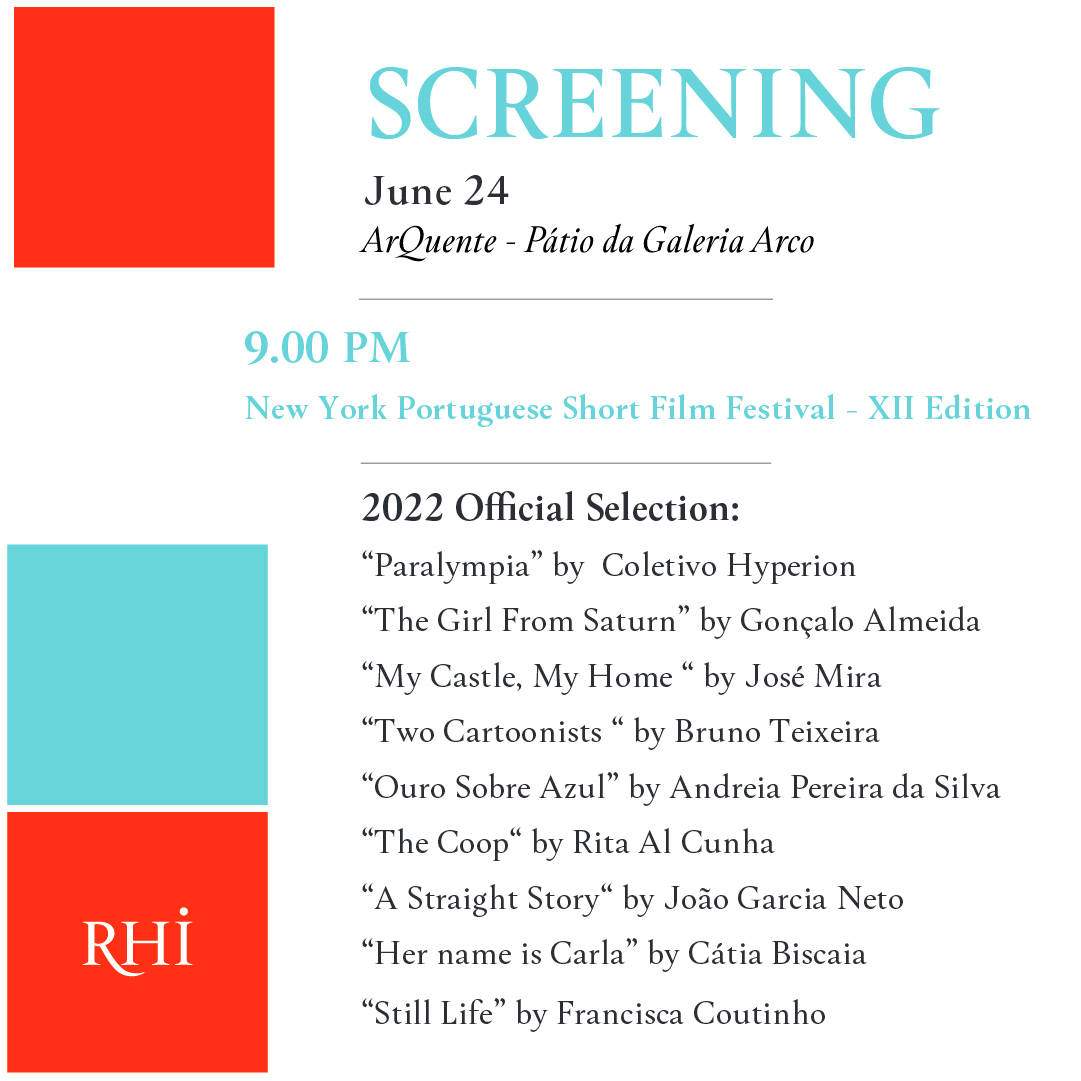 The NY Portuguese Short Film Festival (NYPSFF) was the first Portuguese short film festival in the United States. It showcases the freshest short film productions from Portugal, including fiction, animation and documentary.
2022 Official Selection:
• "Paralympia" by Coletivo Hyperion
• "The Girl From Saturn" by Gonçalo Almeida
• "My Castle, My Home " by José Mira
• "Two Cartoonists " by Bruno Teixeira
• "Ouro Sobre Azul" by Andreia Pereira da Silva
• "The Coop" by Rita Al Cunha
• "A Straight Story" by João Garcia Neto
• "Her name is Carla" by Cátia Biscaia
• "Still Life" by Francisca Coutinho
For more information about the festival, please visit
arteinstitute.org/nypsff
!
Reserve your seat for free at
rhi@arteinstitute.org
Investors ||
| Caixa Geral de Depósitos | Fundação Millennium BCP | Fundação Luso-Americana para o Desenvolvimento | Grupo Hotel Pestana | Organização de Estados Ibero-americanos para a Educação, a Ciência e a Cultura | Pares Advogados | Polarising
Partners ||
| Câmara Municipal de Torres Vedras | Câmara Municipal de Loulé | Câmara Municipal de Alcobaça | Câmara Municipal de Leiria | Leiria City of Music | Câmara Municipal da Vidigueira | Câmara Municipal do Funchal | Câmara Municipal de Lisboa | Câmara Municipal de Cascais | Fundação D. Luís I | _ARTERIA_LAB | Interreg | Magallanes_ICC | Universidade de Évora
More benefits with the
RHI Membership
. Become a member!